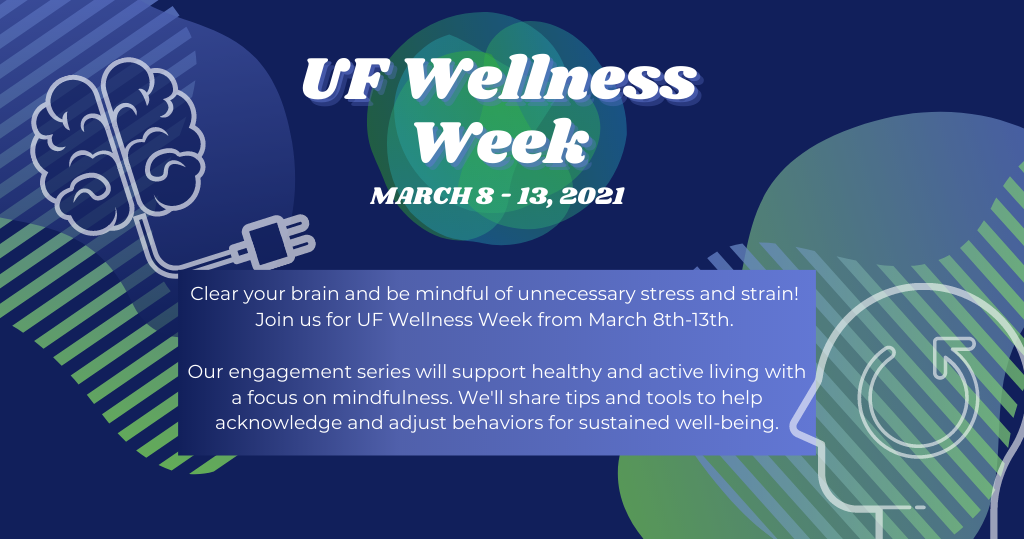 We invite UF students, faculty, and staff to participate in the below offerings hosted by partners across campus. In addition to our daily events, don't forget to check out the ongoing offerings at the bottom of the schedule!
View our Social Media Challenge tab to see how participating in wellness activities can win you a Wellness Package giveaway prize!
View the safety considerations tab for any guidelines and expectations in place for in-person events.
Monday, March 8th
Wellness Week Kick-Off
11AM-2PM, The Plaza of the Americas
Stop by the Plaza of the Americas to engage with wellness partners and learn about their wellness offerings! Don't forget to check out the Wellness Week table, where you can participate in our paint-by-numbers collaborative Wellness Week art project!
Virtual Cook Along (Project Mottainai)
3-4:30PM, Virtual Cook Along, Facilitator: Multi-Cultural and Diversity Affairs – Asian Pacific Islander Desi Affairs, Registration Link
"Mottainai" is a Japanese word roughly translated to mean "what a waste." We hold immense power over the environments we live in, and each of us has a responsibility to take care of this planet. Project Mottainai is an initiative under Asian Pacific Islander Desi Affairs at UF to encourage environmental consciousness among UF students.
Breathwork for Self-Regulation
5:30-6:30PM, Virtual Workshop, Facilitator: UF Mindfulness , Registration Link
In this workshop we'll practice breath awareness as a way to connect more deeply with ourselves in any given moment and explore various breathing techniques as tools for self-regulation.
Tuesday, March 9th
Let's Talk Credit
12-1PM, Virtual Informative Session, Facilitator: UF Human Resources Wellness, Registration Link
Join the Let's Talk Credit workshop and learn about credit and how it may help you reach your goals. Learn how credit works and how it can be used to help with your goals. See steps you can take that may help you establish and build credit. Discover steps you can take that may help you improve your credit and get your finances back on track. Get tips that may help you manage your credit effectively and put it to work for your goals. Learn what to consider when borrowing that may help you determine if a credit product is the right option for you.
Career Exploration – Wandering Maps Activity
3-3:30PM, Virtual Workshop, Facilitator: Career Connections Center, Registration Link
Are you a first-year student at UF and unsure of a major? Are you currently in a major that you aren't enjoying but not sure which major to switch to? Or are you someone who is unsure about your future and looking for ways to explore the possibilities? Please join us for this upcoming C3 Lab and color your way to your career by exploring your journey up to this point.
Since this lab will be virtual, please make sure to come prepared with a blank sheet of paper (unlined & the bigger the better) and coloring supplies (crayons, colored pencils or pens, markers, etc.).
Gator-2-Gator Support Sessions
4-5:30PM, Virtual Appointment, Facilitator: Counseling and Wellness Center, Register for a 30-minute session here
Gator2Gator is a student space to connect with a fellow Gator. The Counseling & Wellness Center's Gator2Gator student ambassadors provide a respectful, listening ear for UF students experiencing a range of challenges, such as academic stress, sadness, loneliness, relationship concerns, etc. Gator2Gator is not counseling or a space to receive professional advice, rather G2G student ambassadors provide a supportive space for students and assist in building individual skills. We're here for you! Stop in for a 30-minute consultation.
Mind-Body Skills Workshop
6-7:30pm, Virtual Workshop, Facilitator: UF Libraries, Access Link
This introductory-level workshop will use a combination of lecture and experiential skills practice to provide an overview of various mind-body practices, including: Benson's relaxation response, mantra and mindfulness based meditation, qigong and tai chi. Workshop participants will be given the opportunity to briefly sample a variety of meditative practices. This workshop is appropriate for anyone wishing to learn basic information about mind-body practices and/or gain a mind-body skill that they may incorporate into their own self-care program.
Wednesday, March 10th
Coping with Grief and Loss with Taylor Williams
11AM-12PM, Virtual Informative Session, UF Human Resources Wellness, Registration Link
Taylor Williams is an adjunct lecturer at UF Innovation Academy as well as the lead facilitator and creative director of Guts and Glory GNV. In this session, we focus on Grief and Coping with Loss. The aim is to normalize grief and share some valuable information and resources.
Break Away from Stress
12-2PM, J. Wayne Reitz Union Breezeway by the North Lawn, Facilitator: GatorWell
Join GatorWell as we "break away" from stress for a while. Participants will hear about a variety of simple ways to manage their stress. Then they will be able to pick a couple of strategies they would like to try out, be given the tools needed to explore those strategies and then have time to try them out!
Riding Emotional Waves
3:30-4:30PM, Virtual Workshop, Facilitator: Counseling and Wellness Center, Registration Link
This drop-in workshop will focus on building skills to gain more control on emotions and reduce suffering. Participants will learn core mindfulness and emotion regulation skills from Dialectical Behavioral Therapy (DBT).
Therapeutic Gardening Plant and Seed Drop
4-5PM, Turlington Plaza, Facilitator: Collegiate Plant Initiative and #Unlitter
Interacting with plants in your own garden or even outside can contribute to reduced stress and anxiety. Stop by Turlington Plaza and pick up a plant and/or seeds to start your own plant therapy practice! 
Sunset Restorative Yoga
5:15-6:15PM, Plaza of the Americas, Facilitator: RecSports, Registration Link 
This restorative class is a perfect way to recover in the middle of your week. This class incorporates a slow flow with deep stretching to provide a great opportunity for relaxation and rejuvenation.
Thursday, March 11th
Meditation for Calming the Busy Mind
11-11:45AM, Virtual Instructional Session, Facilitator: UF Health Integrative Therapies Wellness Educator Nancy Lasseter, Ed.S., LMHC, Access Link
Nancy has been teaching mindfulness meditation courses since 2004 and has a pretty good idea of what the obstacles are for beginners trying to quiet the "inner committee" of voices that seem, at times, to be unstoppable. It's easier than you think and may be quite different than how you expected it to be. 
Come listen and enjoy a couple of short practices that just may well enhance your ability to concentrate and to bring greater ease into your life. You deserve it. 
Resilient Gator Workshop
12-1PM, Virtual Workshop, Facilitator: UF Human Resources Wellness, Registration Link
Join UFHR Wellness for the Resilient Gators workshop to learn about resilience, how to build it and how to use this quality to help tackle life's challenges.
Women in the Workplace
3-4PM, Virtual Panel Discussion, Facilitator: Career Connections Center, Registration Link
There is a shift happening. Globalization has caused the workplace to become increasingly diverse. Have you ever wondered how your identity will intersect in this environment? Come to this panel to discuss and learn from UF alumni and employers about the skills needed to navigate your identity in the workplace.
Taking a Springs Break: Mindfulness Matters
5-7PM, Springs Residential Hall (outdoors), Facilitator: GatorWell & UF Mindfulness
Come learn about and practice some mindfulness as you take a "Springs break". Participants will have an opportunity to try some mindfulness strategies, share some gratitude and learn how to savor their lives. GatorWell and UF Mindfulness are co-sponsoring this event hosted in the Springs Complex Courtyard.
You do not have to be there the entire time but can cycle through what is being offered with the mindfulness practice being from 5-5:30 and 6-6:30pm followed by the savoring and gratitude practices from 5:30-6 and 6:30-7pm.
Friday, March 12th
Volunteer at the Field and Fork Gardens
9-11AM & 11:30AM-1:30PM (two time slots), Field and Fork Gardens, Facilitator: CALS Field & Fork Campus Food Program, Register for a Time Slot Here
You're invited to join us on the Field & Fork Farm and Gardens to enjoy some fresh air and growth, and help your community – No experience necessary! Join us to get your hands in the earth and help your local farm flourish, through planting, mulching, weeding, and harvesting fresh veggies for the Hitchcock Field & Fork Pantry.
Lunchtime Guided Meditation
12-12:30PM, Virtual Instructional Session, Facilitator: UF Libraries, Access Link
In this 30-minute guided meditation session you will be invited to get comfortable, close your eyes, and relax as you are led on a mental journey exploring the beauty of nature.
Prediabetes Testing & Healthy Lifestyle Assessment
12:30-3PM, In-Person Outdoor Screenings, J. Wayne Reitz Union Breezeway, Facilitator: UF Diabetes Institute Student Ambassadors
Join the University of Florida Diabetes Institute Student Ambassadors in learning about a healthy lifestyle! We will be covering topics such as healthy eating and exercise and how this influences your chances of developing type 2 diabetes. You will also have the chance to complete the CDC Prediabetes risk test to see your risk factors and what you can do to lower your chances of developing diabetes!
Craft & Play: Painting Meditation Stones
6-6:45PM & 7-7:45PM (two time slot offerings), Orange and Brew in the J. Wayne Reitz Union, Facilitator: Arts & Crafts Center, Registration Link
Relax and express your creativity painting colorful meditation stones then stay to play in the Game Room! This event is limited to one kit per person.
GatorNights
6-10PM, J. Wayne Reitz Union, Facilitator: Student Activities and Involvement
Take care of yourself at GatorNights this Friday with salt & sugar scrubs, aromatherapy diffusers, wellness journals , Grammys Playlist Bingo & more! Register here.
Participate in a variety of interactive wellness activities at this week's GatorNights! GatorNights is open to UF students with a valid Gator 1 Card. Attendees must be current students with Cleared for Campus Status to participate and are allowed to bring a maximum of one guest to the event.
Saturday, March 13th
Discover Gainesville at the Santa Fe Zoo
11AM-1PM, Santa Fe Teaching Zoo, Facilitator: UF Off Campus Life
Experience the wild side with OCL at the Santa Fe Teaching Zoo! Be sure to bring your camera and see all of the breathtaking animals that call Santa Fe Zoo home. This event is FREE to the first 40 who RSVP! Those in the first 40 RSVPs will be notified via email the week of the event. This event has reached capacity and registration is now closed. 
Enjoy a Day at Lake Wauburg
Hours of Operation: 10AM-5:30PM, Lake Wauburg Address: 133 Regatta Dr. Micanopy, FL 32667
Looking for a way to give back this weekend? Head out to Lake Wauburg as we work together to remove invasive berries that have recently grown at the South Shore. The event will be split into two shifts from 8:30am- 10:30am and 10:30am-12:30pm. We ask that you arrive at South Shore 5-10 minutes before the start of your shift and wear long pants, closed toe shoes, a mask, and bring a water bottle, as well as gardening gloves if you have them.
Register here
.
Participate in this free recreation opportunity by checking out a paddle board or kayak and heading out on the water with friends and family! Make sure to view the Know Before You Go information before arriving!
Ongoing Wellness Week Offerings
Self-Guided Bike Tour
Explore UF's natural areas on bike with a self-guided tour from UF Bikes. Experience the benefits of moving your body and being in nature on this 4 mile route that highlights some of the most scenic spots on campus. Pause at each highlighted location to learn a bit about the area and reflect on the natural beauty around you! View the bike routes here. 
By the way, did you know March is Campus Bike Month?! Click here for more information!
Speed Nutrition Counseling
Nutrition speed counseling is a 10-minute free introduction to your nutrition questions with the RecSports registered dietitian. Whether you need answers to confusing nutrition topics or are looking to discover if nutrition counseling is right for you, sign up today to learn more!
This offering is available to all students, alumni, faculty, and staff in the UF and UF Health community. After registering, a link to self-schedule your session will be included in your email confirmation receipt. All sessions will be hosted virtually through Zoom.
Hitchcock Field & Fork Pantry Food Drive
The Hitchcock Field & Fork Pantry supports UF students and staff who need help finding and accessing healthy food. Please consider feeding a friend by donating today! Most desirable items include canned beans, tuna, chicken, pasta, canned soups, grains, and unopened toiletries.
A donation bin will be placed outside and accepting donations during the following times:
Monday 1 – 5pm, Tuesday 3 – 7pm, Wednesday 9am – 1pm, Thursday 3 – 7pm, and Friday 9am – 1pm